雲品溫泉酒店很榮幸能邀請到美國親子部落客 The FUNemployed Family 體驗我們的住宿以及服務。
如果您有安排日月潭小旅行,趕緊來看看他們分享的入住體驗文章吧!
---
Do you love lakes and mountains? Our second stop in Taiwan was the incredibly picturesque and tranquil Sun Moon Lake. Sun Moon lake is in the foothills of Taiwan's central mountain range and considered an "alpine lake". Fun fact, this alpine lake has palm trees and lush green mountains surrounding it! It's a little different than the pine trees and snowy mountains we're use to at other alpine lakes we've visited. But either way, lakes nestled into mountains are kind of our favorite thing, so we knew we'd love Sun Moon Lake. Read on for all our travel tips or
click here to watch the vlog
we made about our time at Sun Moon Lake.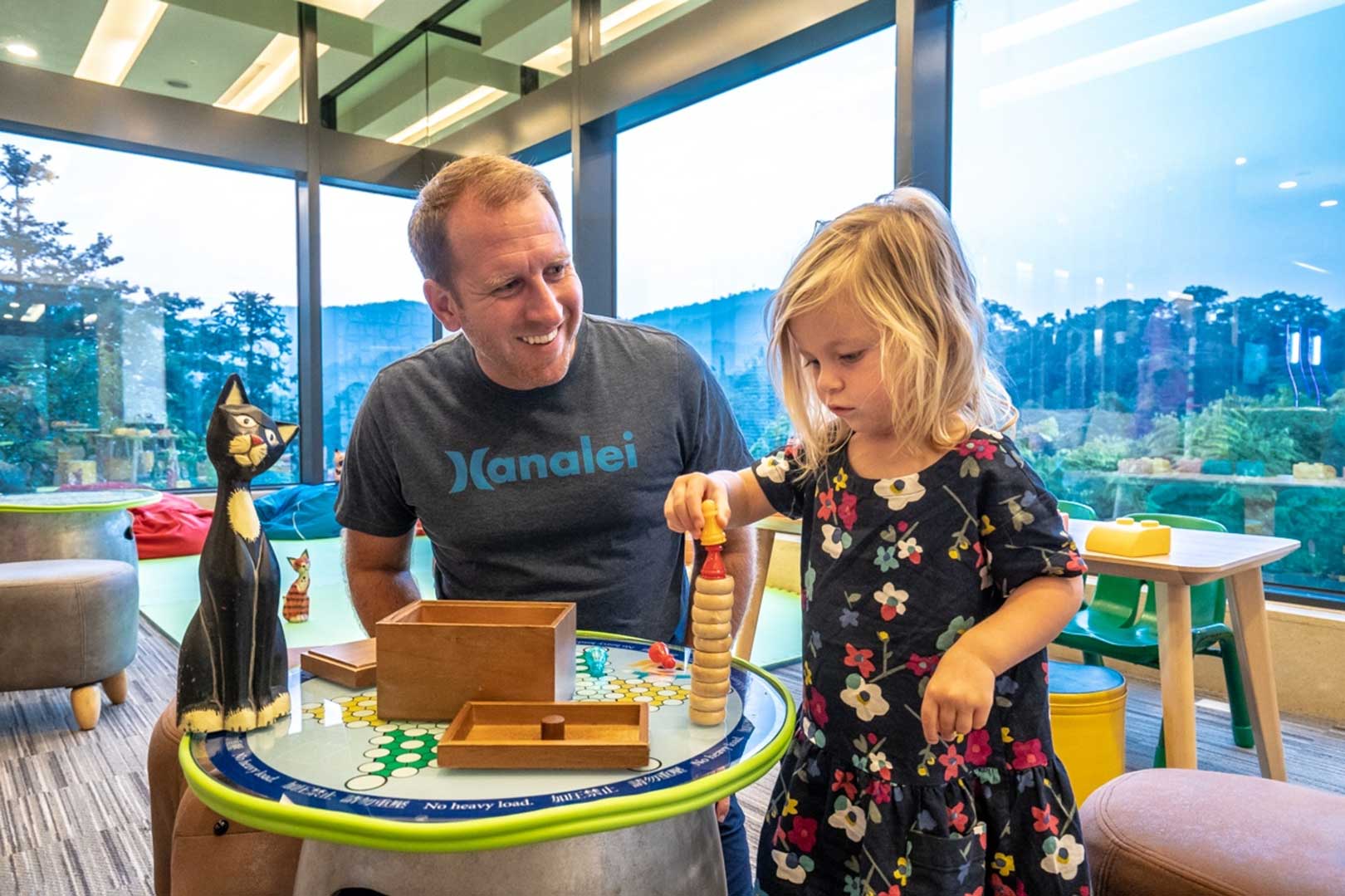 Where to Stay
There are hotels all around Sun Moon Lake, ranging in price. We stayed at Fleur de Chine, a luxury japanese-inspired retreat with incredible views of the lake.
The hotel is fairly new and opened in 2008. Another fun-fact for you: the Fleur De Chine team discovered the first-ever natural hot spring in the area! And the hotel sits directly on the hot spring so every room has a hot spring tub in the bathroom! Also, the hotel is sandwiched between the mountains and the lake, so every room has a view! We definitely recommend the lake-view, but I don't think you can really go wrong either way.
As far as amenities go, there is a kids club (yay!), a sky lounge with panoramic views of the lake, and a great little hiking path up Noble Hill that's great for watching the sun set over the lake. But the best amenity? WATER WORLD! Water world has seven (7!) pools, including a kid pool, natural hot spring pools, a lap pool and more! We had so much fun playing here that it was hard to leave!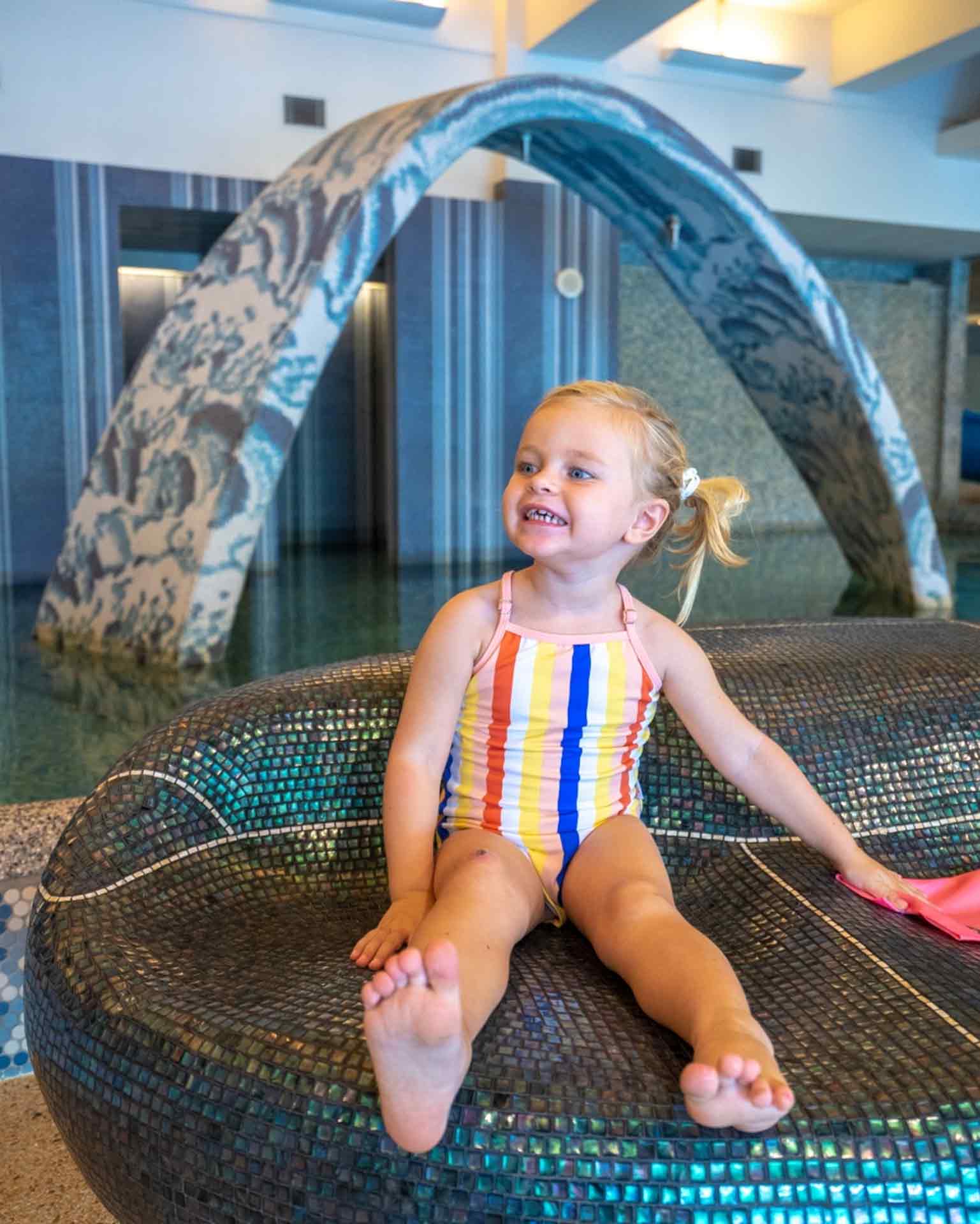 What to do
Get on the water! When you're at the lake you will definitely want to take a boat ride and explore the different temples and towns around the lake. Fleur de Chine offers a private tour for their guests only with two stops and tea time along the way. It was the perfect way to spend our morning! Another great thing to do at Sun Moon lake is to walk the path near the lake (but bring bug spray!). There are also bike trails all around the lake. If biking in your thing, it's a breath-taking cycle route.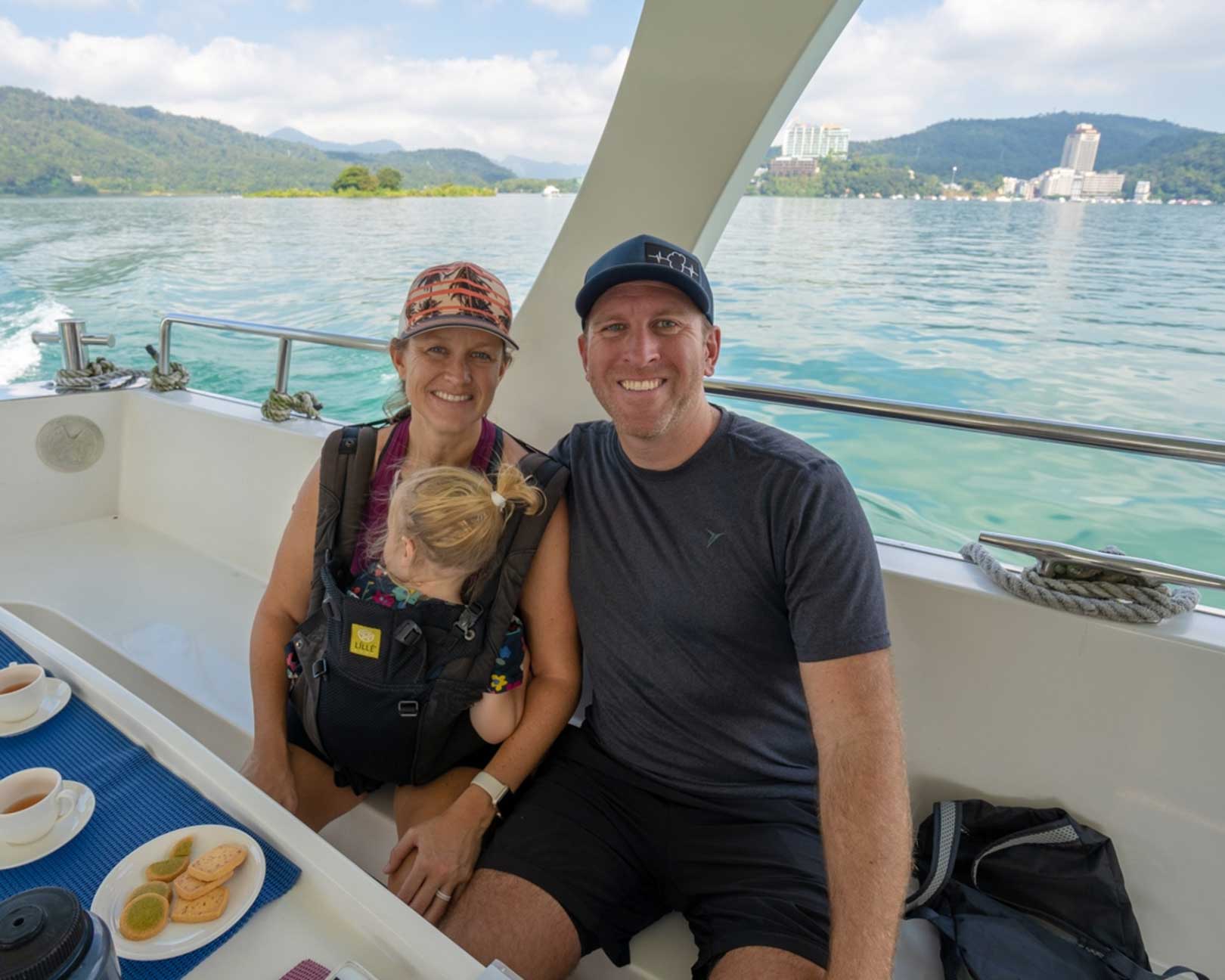 When choosing a place to stay we always look for
Where we can stock up on kid essentials (diapers and milk)

Where we can get grown up essentials (coffee)

What's nearby or how do we get around?

Is this place a good value?

Here's how Fleur de Chine delivered: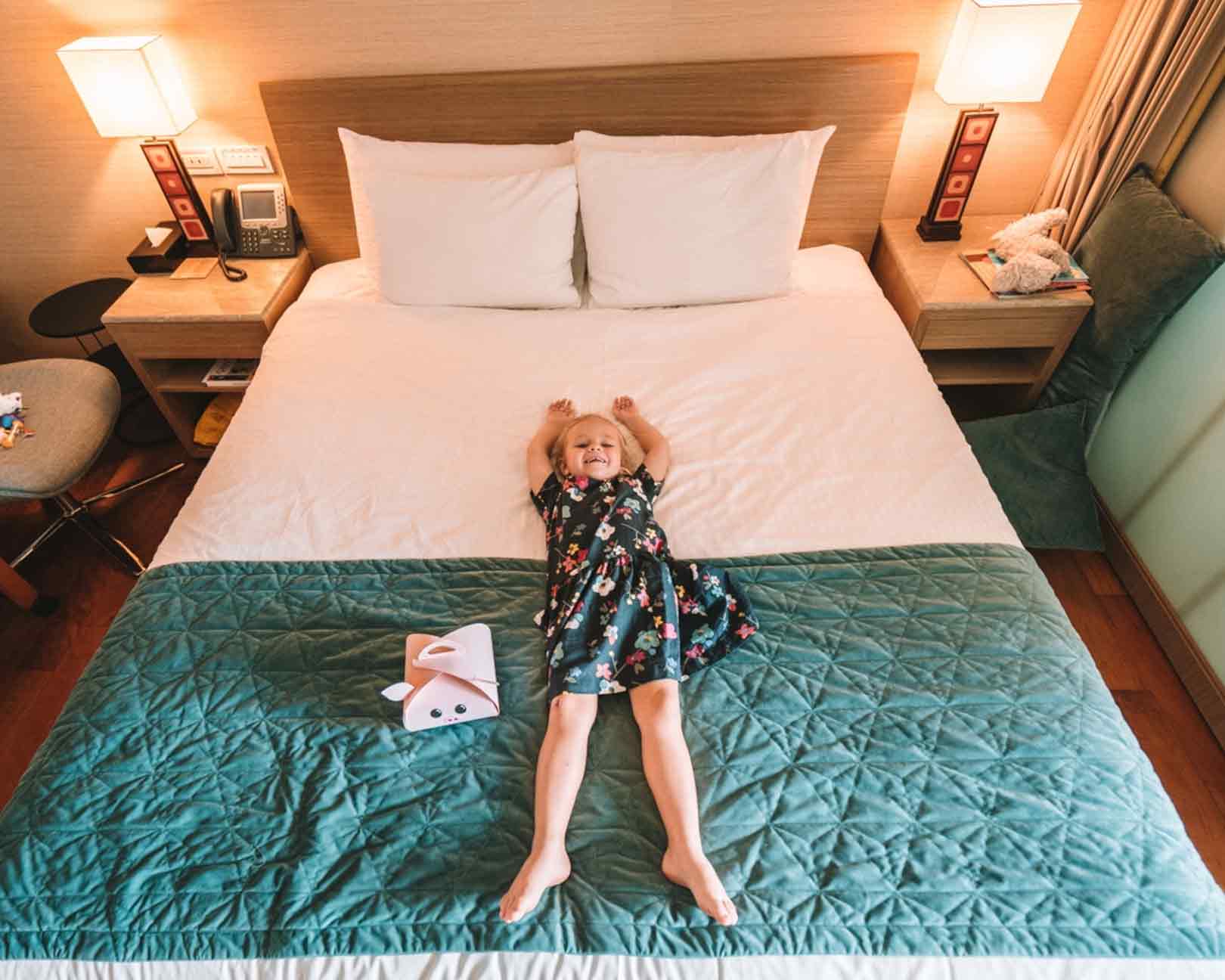 Where to find diapers and milk:

The staff at Fleur de Chine was happy to bring us milk every night before bed time. We made sure we had enough diapers to get us through our stay before arriving, but if needed, there is a Family Mart (similar to 7-eleven) in the nearest town, which is a short drive from the hotel. In other kid-related news, the breakfast buffet here is a dream. Liesel got more than enough fresh fruit to get her through the day, and maybe a waffle or two!


Where to get your caffeine fix:

With an in-room Nespresso machine, we were pretty well caffeinated our entire stay! But in case you need something different, the hotel lobby bar has coffee, tea (Taiwan is famous for mountain tea), beer, wine, and all the goodies.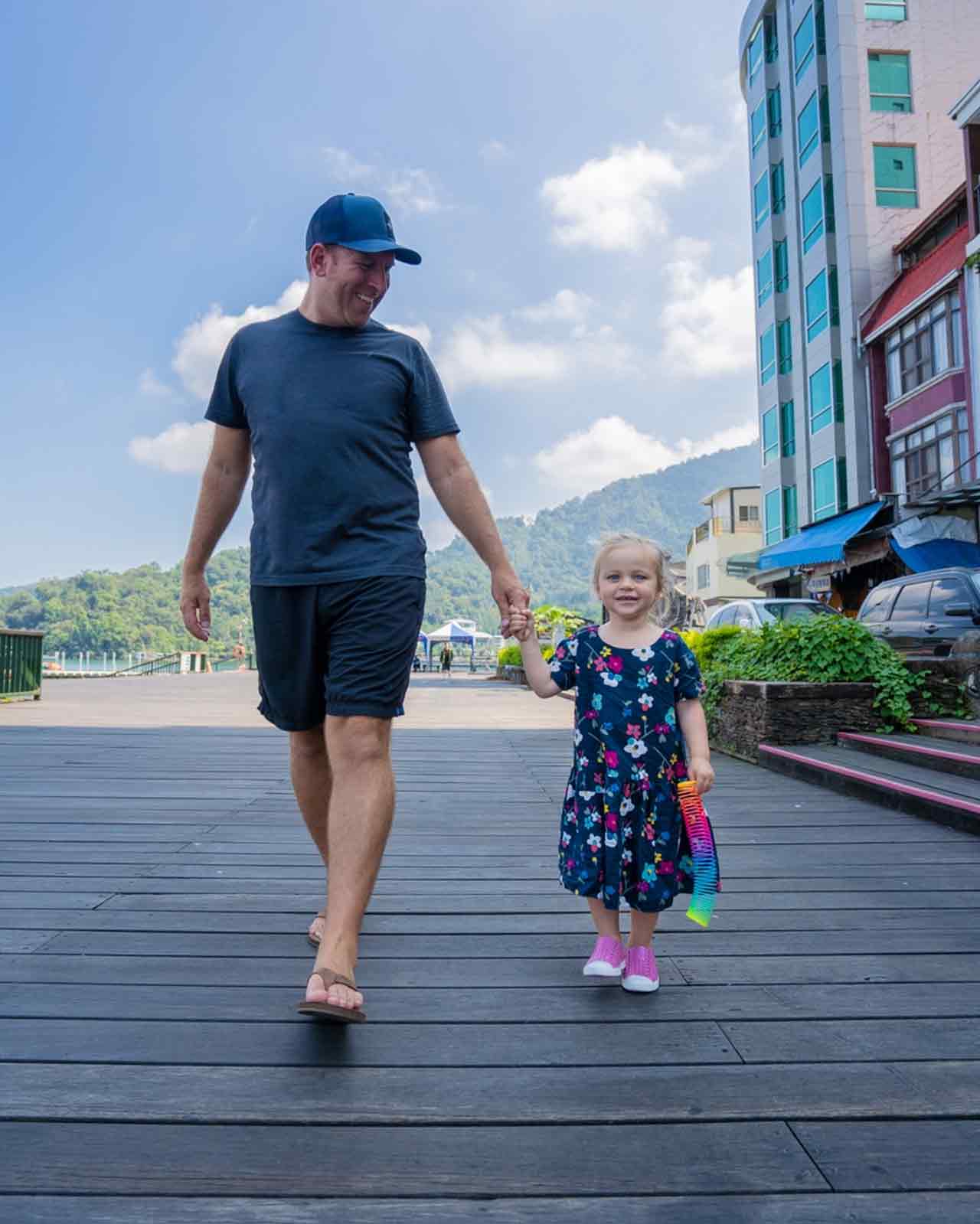 Getting around:

We took the HSR (High speed rail) from Taipei to the Taichung station. Fleur de Chine has a free shuttle from the HSR station in Taichung so that you don't have to navigate a bus system on your own. This definitley made it easy on us! Both legs were about 1 hour in duration so the total trip was only 2 hours, but worlds away from the city. And as far as nearby attractions, the lake is right out your window. The sunrises from our hotel room window literally took our breath away every morning.


Value:

Fleur de Chine is a luxury hotel on Sun Moon Lake, and rooms start around $300 USD / night. When you factor in the inclusive options and retreat-like nature of this hotel, we thought it was a great deal. The meals that are included with your stay are incredible (and filling) with options for even the pickiest eaters (cough, toddlers, cough) in your family. With seven indoor pools on-site, you won't be spending this trip looking for a playground! And finally, the view from every room in the hotel is so serene that it's impossible to be in a bad mood here.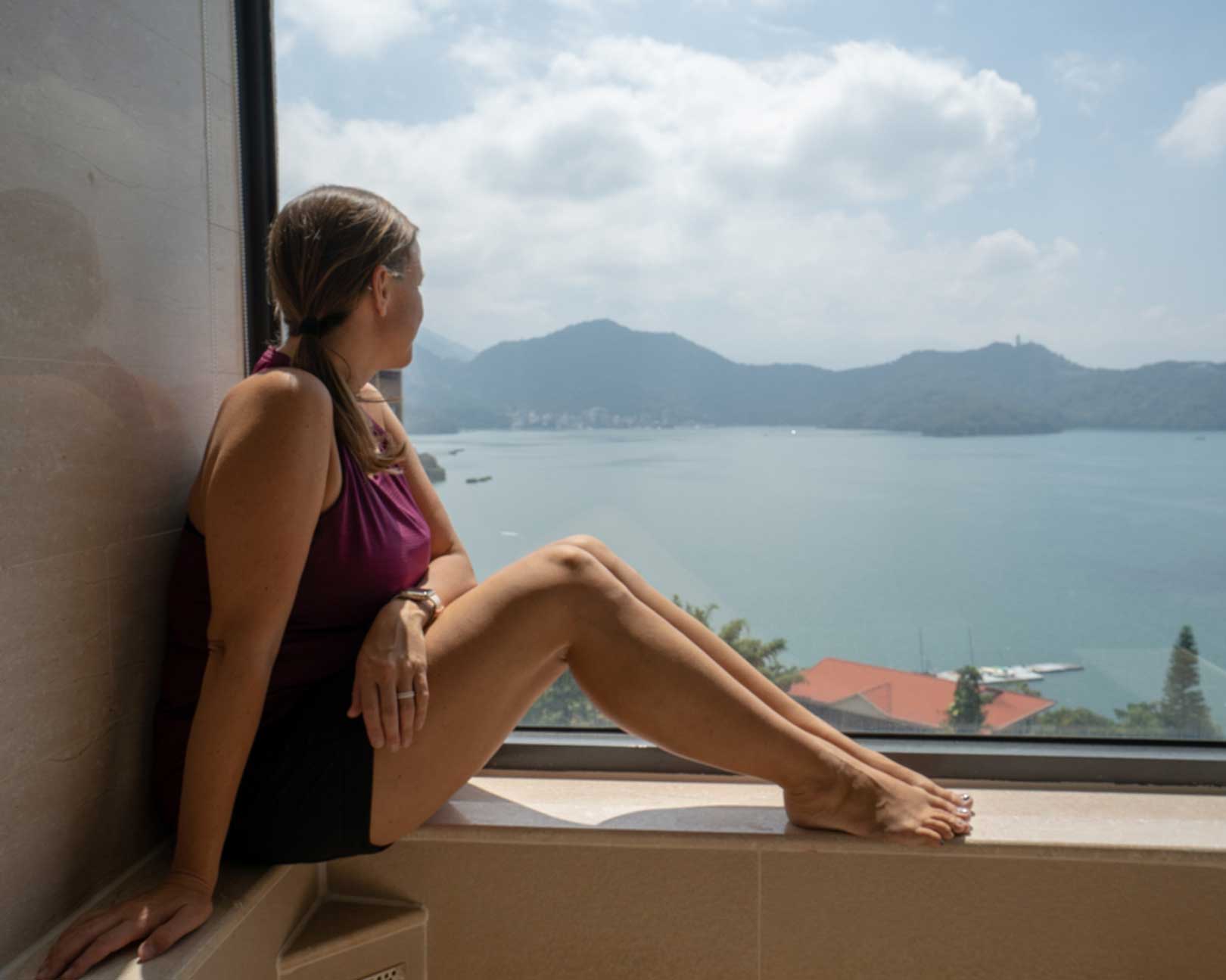 The bottom line

If you're looking for a great family-friendly getaway that's an easy trip from Taipei, Fleur de Chine is your spot. Make sure you book enough time here, though, because you'll be having so much fun that you might not be ready to leave!